"A clay pot sitting in the sun will always be a clay pot. It has to go through the white heat of the furnace to become porcelain. "
– Mildred W. Struven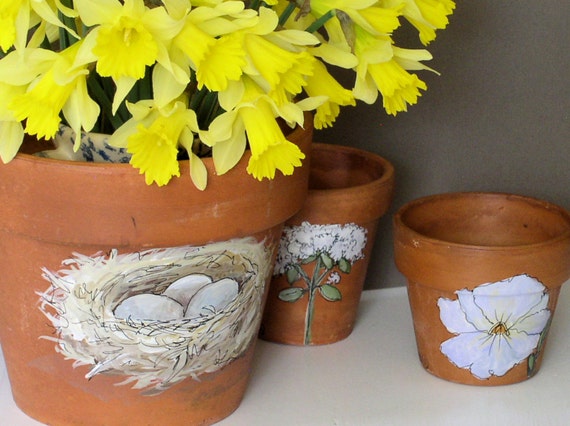 Bird Nest, Peppermint, Pansy painted on a nature clay pot makes a great gift with a botanical garden flower woodland and herb lovers. The front is a large pansy flower with a tinge of blue and the back I painted a smaller sized pansy. Perfect for farmhouse and cottage decor. Great for housewarming birthdays and Mother's gifts.
This vintage clay pot is from the 80's when I owned a flower shop and recently uncovered a box with a bunch of clay pots inside. I painted these pots for my shop and my clients loved them so I am doing it again. I hope you love them too.
Measures: 5″h x 6″ diameter  to 2.75″h x 3.25″ diameter clay pot.
Shown with other options.
The pots are varnished to protect the painting.