Here take a seat and browse through my fabulous painted furniture and painted farmhouse cottage gifts. Decorate your walls with my amazing nature art watercolors and oils in your cottage farmhouse or nursery. Need a gift for an exceptional epic person I have that too.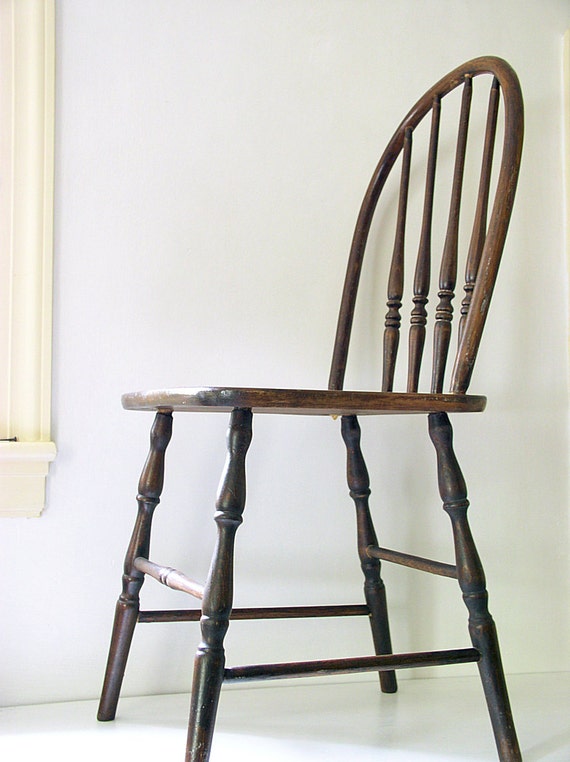 Painted Farmhouse Furniture Vintage Cottage Chic Chair Wildflowers
Painted Farmhouse Furniture vintage cottage chic wooden chair with Windsor style back, turned spindles, along the back of the seat are wildflowers painted in pinks blues and cream. The chair is from the 1940 to 1950 range and I did the painting around 1990.
I discovered this gem in a barn. After cleaning it up and gluing some spokes I sanded and stained it a warm earthy brown. The border is added only along the back and a polyurethane varnish was applied. The chair is in wonderful condition and great for an accent chair. Palette: warm brown stain, pink, cream, blue, leaf green.
I have to be honest it is not a sturdy chair but is good for kids and sitting looking pretty. I used it to stack books on and an occasional table since the seat is flat. I love this chair and have displayed it in my shop and home with every thought of keeping it. Now it is time to say good bye.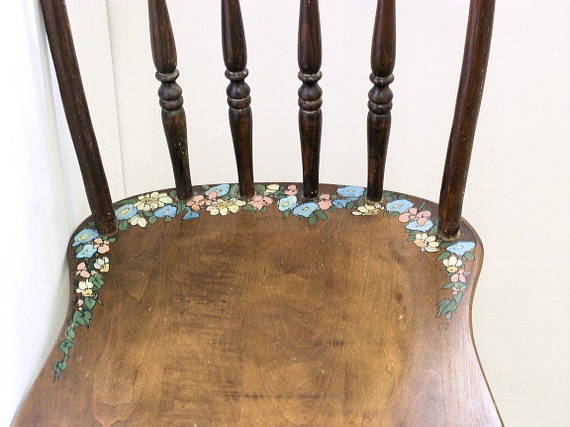 Do you love to watch birds like I do? Here is my whimsical original watercolor of a wren calling out to his mate I found the perfect house.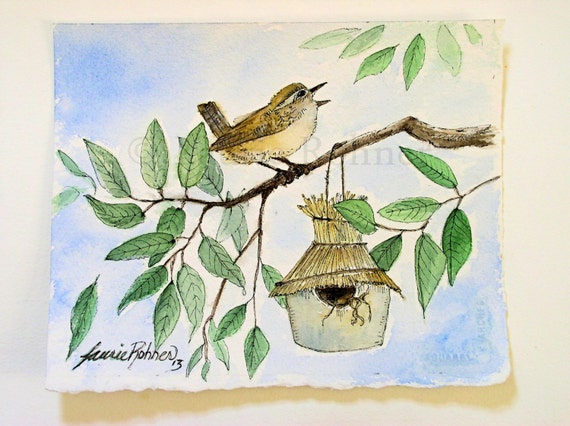 Nature Art Bird Watercolor Woodland Birdhouse Original Painting by Laurie Rohner
So cute. Nature art watercolor a woodland bird making a home in a new birdhouse is original painting by Laurie Rohner.
The sky is blue and spring is in the air. There is a wren sitting on tree branches surrounding a twig birdhouse.
Palette:earth brown,ultramarine blue, cobalt blue, golden yellow, turquoise,leaf green.
Wall art for cottage chic, farmhouse and loft decor.
Arches 300lb hot pressed watercolor rag paper.
This is slightly rough thick hand made paper.
Image and Paper size is 8″ x 10″.
Unframed.
NOT A PRINT
What a better way to show someone you care with this handmade fairy pillow. I hand stitched and hand painted this adorable hanging pillow using canvas recycled from place mats I found.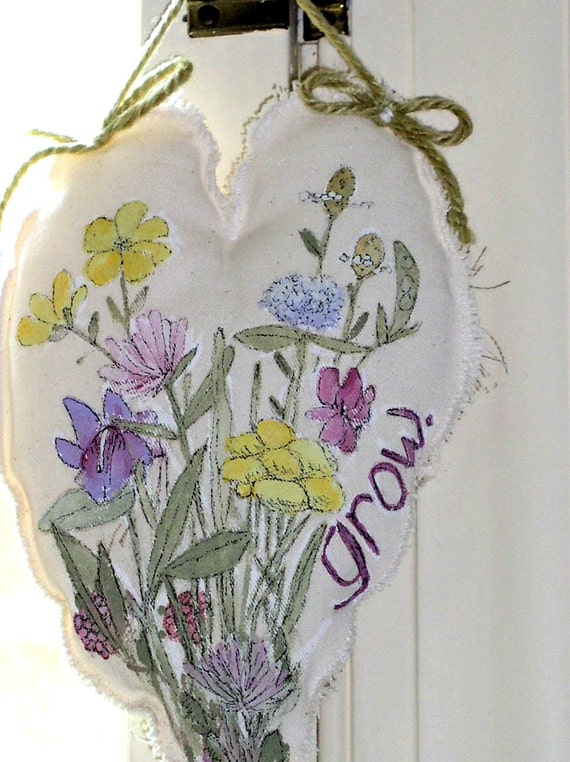 Heart Pillow Hand Painted Fabric Farmhouse Cottage Chic Fairy Wish Grow
A hanging painted fabric cottage heart pillow complete with a fairy wish to grow. The painted fabric pillow is simple farmhouse chic decor.
Comes with a simple inspiring word 'grow' and enchanted fairy magic . The pillows are hand sewn and slightly stuffed, made of cotton canvas painted with acrylic paints and ink and heat sealed. Attached is a natural wool heavy yarn. This pillow the fairies picked spring fresh colors of pinks blues lavender and sage green ( that matches the wool). On the back of this pillow is a field thistle.
Size of pillow: 9″l x 5.5″w x 1.5″d.
Though the fairies inspired the making of these new pillows the style is influenced by my love of farmhouse cottage chic. Hang the pillow on a door knob or nail or the knob of a dresser to remind you to keep growing. Age should never stop anyone from remembering to grow.