Painted botanical nature box is one of my favorite things to make and paint. Painting garden flowers on functional artwork for people to enjoy and to pass on through the generations, what a delight. Today I finished up the images of my most recent painted storage box for my whimsical botanical cottage painted furniture collection. Interested please stop by my shop at Between The Weeds. There are so many more garden themed painted pieces of furniture.  This one is great for a fabulous birthday gift.
Botanical Painted Nature Box Custom Made Cottage Furniture Storage Garden Flowers Herbs Bird Laurie Rohner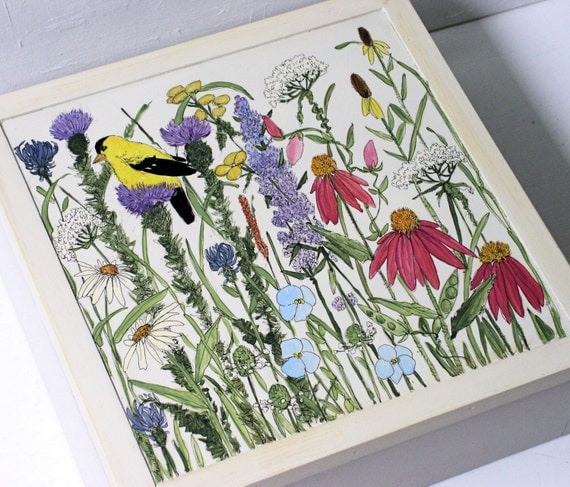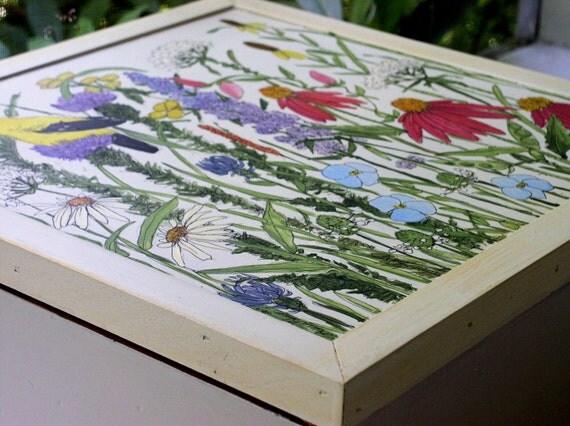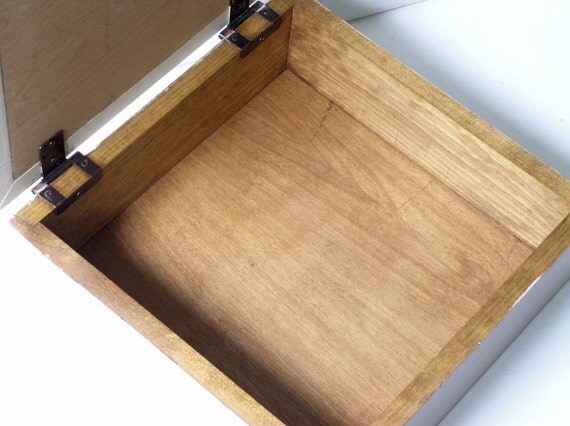 Botanical painted nature box with garden flowers, herbs, and a bird sitting on top of a thistle is custom made cottage furniture for storage by Laurie Rohner. The top is colorful assortment of wildflowers and garden flowers, coneflowers, larkspur, flax, thistle, Queen Anne lace and a sweet goldfinch sits munching on his favorite food, thistle seeds.
This is a custom made hinged wood box with combined high quality furniture grade birch plywood and clear pine. The inside is stained a honey color with a taupe gray for the outside base. The top is a soft white with a frame rubbed with a bit of color.
Measures:
outside 13.5 x 13.5 x 5 inches high
inside 12 x 12 x 3.5 inches high
Painting palette: raspberry, lavender, purple, blue, grass green, green, clear blue, light blue, yellow, cream.
The design is sketched on my own hand crafted wood keepsake box. I hand paint and add my signature line work. Each box is a one of a kind work. I do not use stencils transfers or prints and they are always my original work. A functional piece of art can easily fit any decor from traditional funky whimsical or of course farmhouse.
Every piece is signed and dated.
Hours to complete 7 1/2hrs
Ready to ship.
Some lovely words about their fabulous boxes.
*Prompt service, beautifully and professionally packaged. Gorgeous box, love it!!!!
*I love your shop and I will come back often to see new products.
*I absolutely love this box and Laurie personalized it for me. Shipped quickly and safely and looks gorgeous. Thank you!
All rights are not transferable with the purchase of this painting and remain with the artist.
The copyright is for photographing and does not appear on the original.
This work ships standard post to the US (priority mail for the US is an additional $38.00). I ship priority mail internationally only to all others. The amount shown is for priority mail to those countries. I ship to all.
Shop:
http://www.etsy.com/shop/BetweenTheWeeds
Second Shop:
http://LaurieRohnerStudio.etsy.com
Visit my web site:
http://laurierohner.com
http://paintedfurniturestudio.com