Decorating any home is a bit confusing and sometimes overwhelming. Today you can mix it up with farmhouse cottage chic furniture with traditional antiques and modern lines of sofas and chairs. But to pull any of it together decide on color. I like to break it down and simplify things by using color. Start with one primary color and use that one color as your base color. If it is a bright crisp color maybe choosing your walls in a white would work or if you like the muted tones of blue and aqua I like to use a pewter gray on walls. Keeping the soft gray themed room in mind you could easily use as accent furnishings my tray, box and art to bring in the subtle shades of nature in a farmhouse cottage home.
Now add a painted farmhouse wood serving tray handmade distressed cottage design taken from a wallpaper I discovered of pussy willows. My wooden serving tray is a sturdy well made hand painted and sealed with a protective vanish and wax. I designed this serving tray entertaining indoors or outside. When not in use, hang it up on the wall.
Color Palette: gray beige, verdigris, umber brown, deep pine green, aqua, soft gold yellow.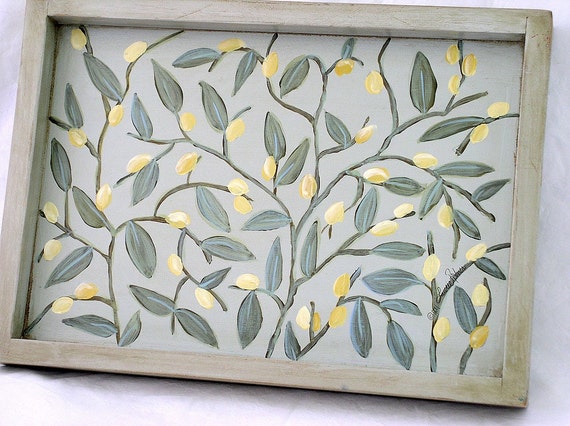 Painted wooden wall mirror farmhouse style furniture is cottage distressed shabby chic and makes a great add to painted furniture. The frame is hand painted with painted stripes i n a soothing robin egg blue and cream with decorative hand painted ivy. A 3 1/2″ pine wood frame is painted, varnished and slightly distressed then rubbed to give it a time worn effect. The entire finish is sealed with a butcher wax. Crafted by my own hand. It is ready to hang.
I like to take frames and rest them up against the wall on the mantle, chest of drawers or table. It gives the eye some interest and a little added depth to a room. Try it.
Overall dimension is a 15″ square and the mirror is an 8″ square.
Weight: 6lbs
*If you would rather use the frame for another purpose the backing is screwed in place so the mirror can easily be removed.
Painted botanical nature box is painted with botanical garden flowers and woodland herbs in greens and whites by Laurie Rohner. Painted furniture custom made storage box painted poplar wood in a lovely shade of the softest creamy gray taupe white. I love this base color. To compliment the color I decided to use a subtle simple design with greens and white flowers that cascade down the front. The botanical woodland flowers are from hydrangea to Queen Ann's Lace and Lily of the Valley. Easily compliments farmhouse cottage or loft decors.
Display it on a chest of drawers or table. Stuff it with journals or scarves or even in the bath with toiletries.
Great gift for the bride or wedding couple. Give it to your Mom for all the family memories. Makes a great housewarming and birthday gift,too.
Palette: dark green, olive, leaf green, white, cream, light pewter gray.
Measures:outside 14.75″ x 11.5″ x 8″ high. inside 12.75″ x 9.75″ x 6.5″ high.
The sides of this nature box are 1/2 stock poplar with mortised hinges.
The design is sketched on my own hand crafted wood keepsake box. I hand paint and add my signature line work. Each box is a one of a kind work. I do not use stencils transfers or prints and they are always my original work. A functional piece of art can easily fit any decor from traditional funky whimsical or of course farmhouse.
Every piece is signed and dated.
Hours to complete 7 1/2hrs
Ready to ship.
By choosing a base color scheme you can change it up. For instance if you enjoy smokey colors by choosing a neutral base color you can change the pops of color from the scheme I presented to a dramatic all black and cream or throw some golden yellows and soft reds. Just stay in the smokey tones and have fun.