Have you ever considered using watercolors on painted furniture? I know it sounds crazy watercolors? Yes you can use watercolor paints and make them durable. Let me show you how.
First you have to prime the work with gesso or another water based primer (oil primers do not work). Allow the primer to set up for a day. Take a sand paper (180 grit or finer) and gently go over the entire surface. I like to used gouache and watercolor paints. For this tray I decided to go with a watercolor nebula effect.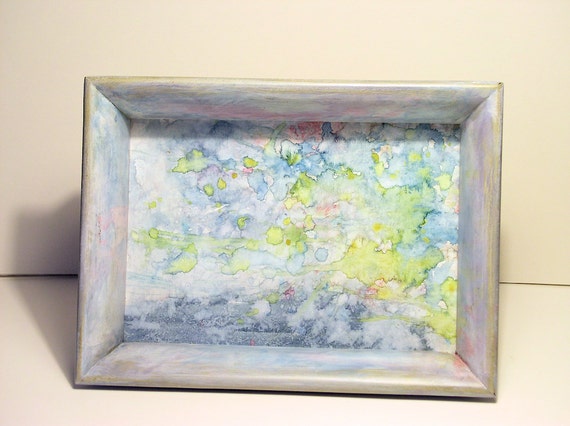 I chose the colors I wanted to use and started with the bottom corners of the tray applying color. Working quickly I covered the bottom area and the sides of the frame with patterns of color. I let the paint set for a short time and then (here comes the fun part) I took a clean brush dipped it in clean water and splattered the painted areas. The paint colors started to meld into each other. A side note do not add too much water it is better to do this in stages. The sides I found the watercolors ran down into the bottom. This is a time consuming process because you have to allow drying time in between each application.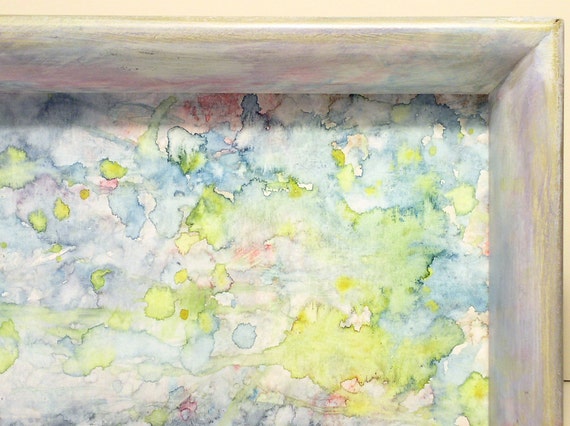 I wanted more depth to the colors and added splashes of color to my wet brush. The splashes of color hit the sides of the tray. I wanted the sides to melt away from the bottom so I used a rag and pulled the color away.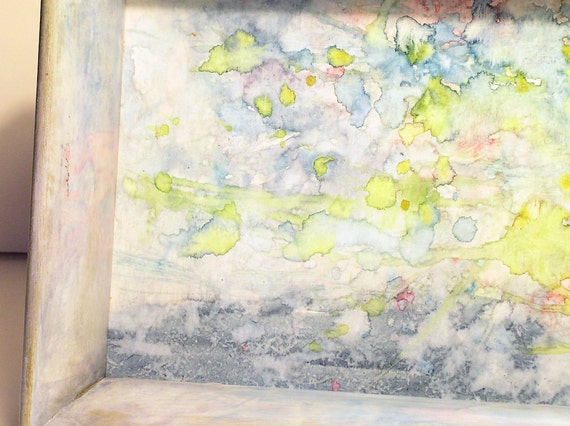 The back of the sides are finished in the same way as the front. Now it is looking like a nebula but it needs something else? What? Then I saw an image of a nebula and I saw golds and silvers inside this wonderful image. On the sides I added gold and silver gilded cream paints. Gently rubbing the surface until I got the effect I wanted.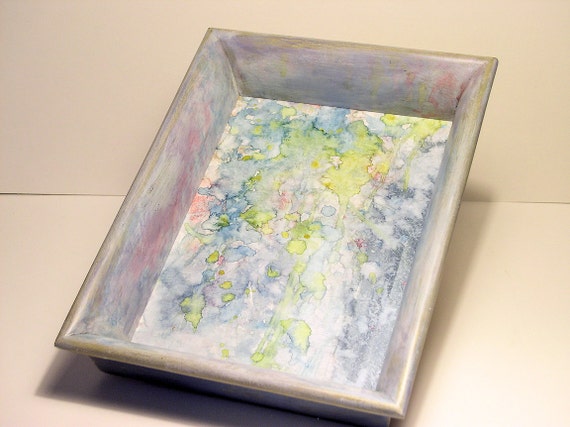 Allow everything to set up and thoroughly dry. Now you can apply a clear oil based varnish or lacquer with a brush or spray. It is very important you use an oil based product. The oil based product even brushed will not disturb the watercolor paints. Apply several coats and I finished this tray off with a cork backing.
Gorgeous. Serve some cocktails up to your friends. If you want you can buy this unique original vintage wood tray at Laurie Rohner Studio. Or the Painted Furniture Studio. Check out this tray and so much more.