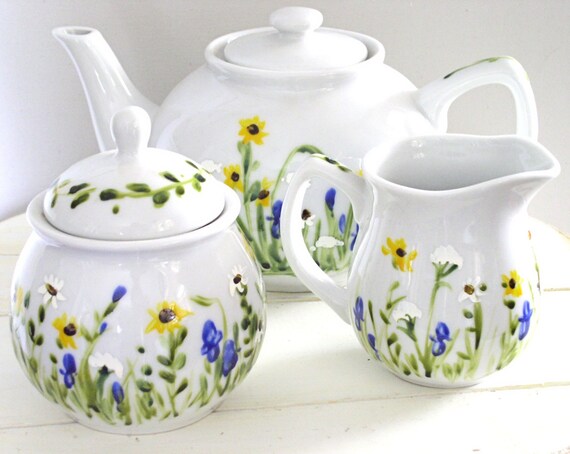 There is something very special about anything made by hand. You know it is a classic one of a kind piece of functional art and that is why so many are finding the value in anything handmade. Most of my functional art is cottage farmhouse style with a twist of whimsy and fun, yet some of my painted furniture is a little more serious and traditional with hand rubbed finishes. I have tried many techniques and love to make my own paints and varnishes. Sometimes I just like to have fun and paint wildflowers on white ceramic I picked up at a local store a few years back but now found inspiration to hand paint these wonderful wildflowers in primary colors of white yellow and blue on bright green stems and grass in between. The lid and the handles have a vine in green decorating them.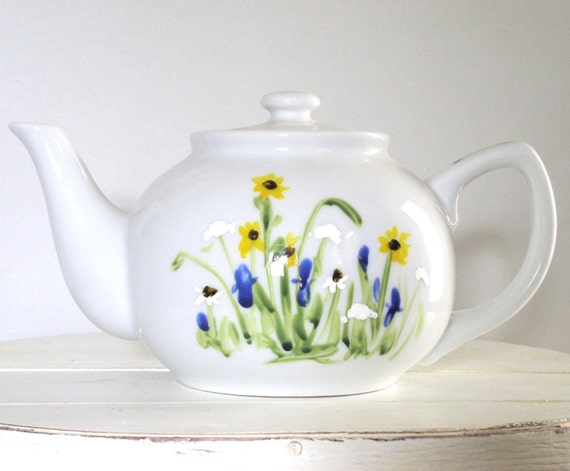 Fabulous hand painted white ceramic tea pot painted with decorative wildflowers makes for a special gift to any tea lover. This is a unique one of a kind painted by hand by Laurie Rohner. Large enough to fill up the two painted mugs or 4-6 tea cups. Excellent condition.
A simple design of wildflowers in blue, white and yellow with green leaves wrap around the sides decorates this teapot.
Painted with Ceramic Specialty Paints.
These paints are baked on and are dish washer safe as per manufacturer but I recommend to hand wash.
Cream and sugar set sold separately. The mug and plates can be purchased.
Measures: body 6″dia.x 5″h
tip to tip 10″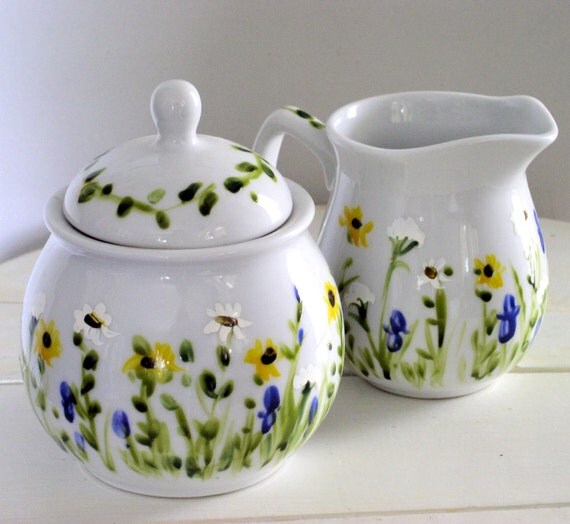 Garden wildflowers painted around the sides of the creamer and sugar set. There is a green vine accent the top of sugar bowl and both have bright blue and yellow flowers with white lace flowers on bright crisp green leaves.
Buy this set with the painted matching teapot shown in photos for a holiday tea lovers gift. Excellent condition.
Manufacturer of paint states it is dishwasher safe
I would hand wash since dishwasher are changing all the time.
Measure:
Creamer 4.75 tip to tip, 4″h x 3.25dia.
Sugar: 5″h x 4″ dia.
All work shown in my shop are my original designs. I hand paint each piece sign and date. They are not stenciled transferred or printed in anyway. All my functional art is copyrighted so please be kind and do not copy.
Read my shipping policy for more info.
Check out my web site for other work I do.
http://laurierohner.com
http://PaintedFurnitureStudio.com