Lion Nature Box Painted Furniture Distressed Keepsake Custom Made Box
Lion nature box is custom-made painted furniture. Distressed wooden decorative keepsake one of a kind is a tribute to nature and lions. The top of the lid a detailed hand painted portrait of a male lion staring over his domain with his mane framing his regal face as the sun starts to set on the Serengeti. I love the way the eyes seem to reach into your heart. If you adore lions like I do this is a must have keepsake to own.
Color Palette: honey stain, sage greens, golden brown, burnt orange, dark brown, earthy tans, white, cream.
Box measures: 11″ x 9.25″ x 7.33″ inside is 8.25″l x 7″w x 5.25h. and weighs 4.5lbs.
Box hinged.
Box sealed with lacquer and waxed.
The Keepsake Nature Boxes are painted on the top of a stained, hinged and hand crafted pine keepsake box. The finish is a satin-smooth luster. He is painted first and then I add my ink line work. This gives him the added depth. I have been drawn to lions since childhood so my lion box is a very special to me.
The design is sketched on by my own hand crafted wood keepsake box. I hand paint and add my signature line work. Each box is a one of a kind work. I do not use stencils transfers or prints and they are always my original work. A functional piece of art can easily fit any decor from traditional funky whimsical or of course farmhouse.
Every piece is signed and dated.
Hours to complete 6 1/2hrs
Ready to ship.
Some lovely words about their fabulous boxes.
*Prompt service, beautifully and professionally packaged. Gorgeous box, love it!!!!
*I love your shop and I will come back often to see new products.
*I absolutely love this box and Laurie personalized it for me. Shipped quickly and safely and looks gorgeous. Thank you!
All rights are not transferable with the purchase of this painting and remain with the artist.
The copyright is for photographing and does not appear on the original.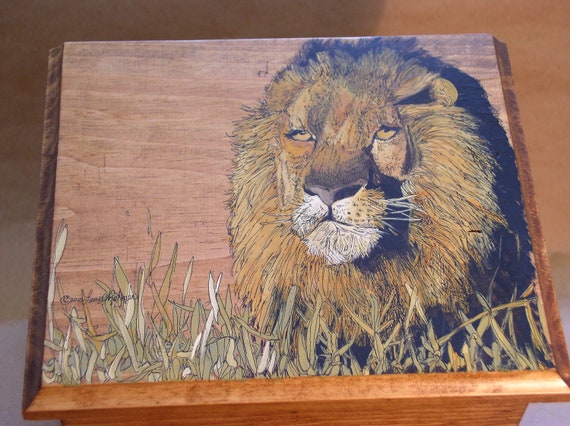 You can also buy this majestic fellow at Between The Weeds. Sorry this is SOLD