I have two or three great painted work centering around summertime fruit and berries. I love to use painted work to highlight the seasons. When I think of summer I think strawberries blackberries and bowls full of cherries. Fresh picked from farmhouse vines trees and gardens and very cottage chic for today's fun eclectic designers. Check them out and buy everything here at Between The Weeds.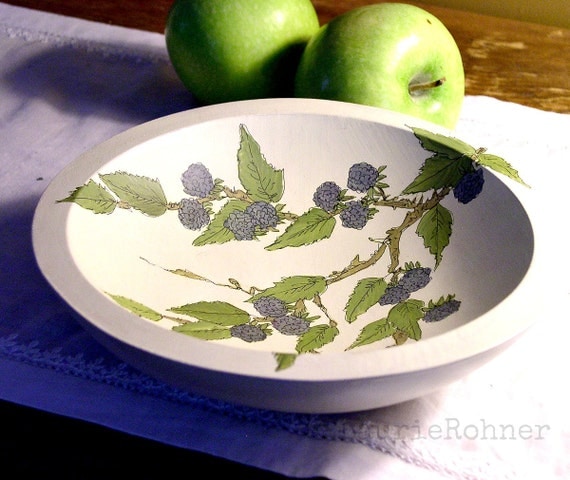 A farmhouse decorative wooden bowl is hand painted. I took a turned unfinished wooden maple bowl, painted it a soft white and hand painted a beautiful detailed vine of blackberries strewn across its surface. It has a low luster sheen.
Mainly used for decorative purposes but perfectly OK for apples or nuts. Can be sponged clean. A very useful bowl and can go in any room.
Approximately 9″ in diameter and 3″ high.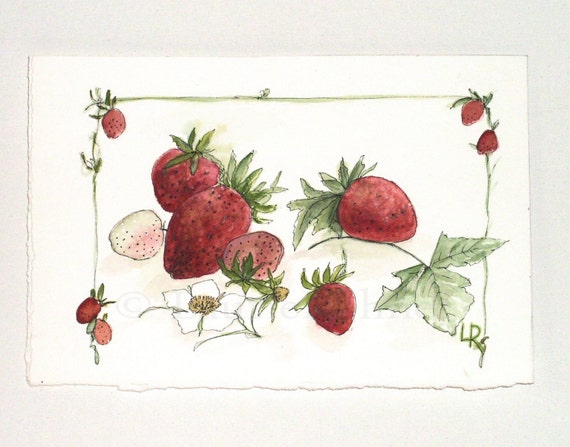 Nature art watercolor painting of strawberries picked in a botanical garden titled Summer Strawberries is original artwork by Laurie Rohner.
I love strawberries and don't my strawberries remind you of warm sunny days ice cream and strawberry shortcake. I bought some strawberries at the market the other day and while washing them decided to take a few to paint. Nice on cold winter days or hot summer days hanging in you cottage farmhouse kitchen porch or loft for a touch of whimsy.
Palette:green, red, umber.
Wall artwork for cottage chic, farmhouse and loft decor.
Arches 300lb hot pressed watercolor rag paper.
This is slightly rough thick hand made paper.
Image and Paper size is 7″ x 10″.
Unframed.
Small Fact: The paper is so thick you can attach a ribbon to the back and hang it.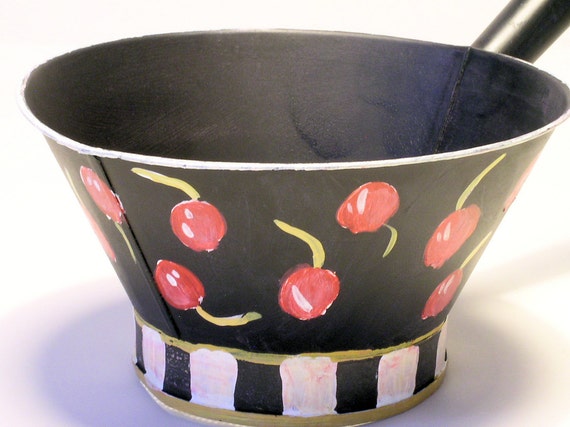 Painted vintage metal bowl furnishing with red cherries and checker board pattern in black and white on a black painted farmhouse cottage chic metal vintage sifter. The vintage metal sifter is primed and then painted black and bright red cherries decorate the outside with a black and white checkerboard around the bottom rim. This is the old way people used to sift their flour, imagine that.
Use it as a fruit bowl but I think it is great to hold a potted plant or soaps or candles or bills notes or keys. The uses are as many as you can think.
It is sealed with a lacquer.
It measures 8″ in diameter, 3.5″ high and has a 4″handle.
The bottom is 4.5″ wide.
There is plenty in the shop for you to find to decorate your farmhouse cottage with painted custom unique works of functional art inspired by nature.